Našou hlavnou ponúkanou službou je kvalitná a detailná 3D tlač technológiami Fused Deposition Modeling (FDM) a SLA/DLP. Celková plocha jednoliateho objektu až do 125 000 cm3 (50 x 50 x 50 cm). Možnosť tlače väčších objektov po častiach. Tlač až štyroch rôznych materiálov, respektíve farieb súčasne. Výška vrstvy už od 0,05 mm zabezpečuje veľmi detailné vyhotovenie aj pri rozmerovo malých objektoch. Široká podpora materiálov /PLA, ABS, PET, HIPS, Flex, Nylon, fotosenzitívne živice atď…/ poskytuje flexibilitu možnej tlače a výsledných objektov. Možnosť využitia pridružených post-processing služieb úpravy objektov. Spájanie, kolorovanie, alebo iná povrchová úprava objektov podľa požiadaviek zákazníka.
Vďaka neustálemu vzdelávaniu v danej oblasti sa snažíme našim zákazníkom prinášať vždy vysokú kvalitu ponúkaných služieb a to všetko pri udržiavaní nákladov a konečnej ceny na čo možno najnižšej úrovni.
Využite náš proces 3D tlače vo Vášom výrobnom procese a získajte tak náskok pred konkurenciou. Tešíme sa na spoluprácu!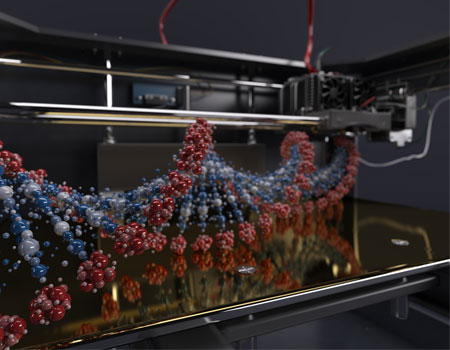 Spracovanie a cenová ponuka
3D tlač objektu a doručenie
Využiteľnosť 3d tlače
3D tlač je aditívny spôsob výroby, kedy postupným nanášaním a spájaním materiálu vo vrstvách vzniká požadovaný objekt. V súčasnosti je využitie 3D tlače rozdelené do niekoľkých oblastí a to hlavne na základe použitej technológie. Technológia Fused Deposition Modeling (FDM) používa priame nanášanie materiálu roztavením v tlačiacej hlave a nanášaním bod po bode. Najčastejšími materiálmi sú termoplasty. Technológia SLA respektíve DLP používa fotosenzitívnu živicu, ktorá vplyvom UV lasera polymerizuje. Oblasti využiteľnosti danej technológie sú uvedené pod textom.